Tirupati Darshan – Tirupati Darshan Cabs
overview
Tirupati Darshan Cabs: Tirupati is one of the most famous pilgrimage centres globally and the most visited spot of devotion. Located in the Chittoor district in Andhra Pradesh, India, Tirupati is home to many famous temples. The most important place of interest in Tirupati is the historic shrine of Sri Venkateshwara, the Lord of Seven Hills, which is celebrated all over the country. Devotees look for the Tirupati package to come for Tirupati Darshan at least once in their lifetime.
The holy shrine of Sri Venkateshwara is located on a hill at Tirumala, a cluster of seven hills known as Seshachalam or Venkatachalam. The temple situated here is believed to be the richest temple in the world. The main God worshipped here is Lord Venkateshwara. Along with this, this temple is also a vibrant culture and philanthropic institution on its own. The incredible history of the temple spanning many centuries, is a living example of the glorious past. Today, for Tirupati Darshan,
pilgrims from every nook and corner of the nation stand in the queue for hours to have a glimpse of the presiding deity.
Spiritual Land of Tirupati -Tirupati Darshan Cabs
With Tirupati online booking facilities available, devotees can now easily plan for their Tirupati Darshan. This temple is one of the fine examples of Dravidian temple architecture. There is a unique style of worship followed here in the temple. The elaborate rituals and mode of worship in the temple were prescribed by the saint Ramanujacharya, and to date, the same process is being followed. Here annual festival called 'Brahmotsavam,' which is celebrated on a grand scale for nine days in September, attracts pilgrims and tourists from all parts of the country. The fifth and ninth days of the festival, thousands of devotees come for Tirupati Darshan.
Other famous temples located in the city of Tirupati are Alamelu Mangamma Shrine, Padmavati Temple, Govindarajan Swamy Temple, Kodanda Rama Swamy Temple, Srinivasa Mangapuram, Kaila Theertham, ISKCON Lord Krishna Temple, Hanuman temple at Tirumala, Avanakshamma temple, Sri Venugopal Swamy Temple, Sri Kalyana Venkateshwara Swamy Temple, Sri Prasanna Venkateshwara Swamy Temple, and Parasurameswara Temple.
Tirupati Tirumala Balaji Darshan -Tirupati Darshan Cabs
The number of devotees who visit Tirupati town are increasing day by day, and the Tirupati Devasthanam is providing the best facilities for these devotees. Tirupati town is famous for its red wooden toys, copper and brass idols. Also, the city is a significant economic and educational hub in the southern region of the state. For a visit to Tirupati town, one can look for a suitable Tirupati package. By booking a Tirupati online booking, you can easily visit this pilgrimage town and go for Tirupati Darshan with your family and friends.
Tirupati's History -Tirupati Darshan Cabs
Tirupati was then Thrivengadam which was used to form the northernmost frontier of the Tamil Kingdoms. Puranic literature, composed during the post-Mauryan and early-Gupta era, also mentions Tirupati as the Aadhi Varaha Kshetra. The Puranas associate the site with Lord Varaha, one of the incarnations of Lord Vishnu. The Alvars or Vaishnava saints say Lord Venkateshwara as a form of Lord Vishnu. For centuries, Tirupati was ruled by the kings and emperors of various dynasties.
 The Imperial Cholas, Hoysalas, the Vijayanagar emperors contributed to building the temple and donating gold and other ornaments. During the invasions, the idol of Sriranganatha, the deity of Srirangam, was brought to Tirupati for safekeeping. During the regime of the Vijayanagara emperors, the temple attained its current luxury and size. According to Tirupati's history, Krishna Deva Raya decorated this temple with numerous objects of priceless value, ranging from diamond-studded crowns to golden swords.
Tirupati Tirumala History -Tirupati Darshan Cabs
Tirupati survived the Muslim as well as British invasions twice, the only in South India. It is believed that during the invasions, the deity of Sriranganatha from Srirangam was brought to Tirupati for safekeeping. The first establishment was near Kotturu, nowadays K.T. Road area. Later it was shifted near the temple of Govindarajan Swamy, with the temple as the centre of the city.
There are several religious as well as natural sites in Tirupati. Tirumala Venkateshwara Temple, dedicated to Lord Vishnu as Venkateshwara, is the main temple and chief attraction. Alamelu Mangamma Shrine, Srinivasa Mangapuram, and Kapila Theertham are some other places with great religious importance. Natural places such as Akash Ganga Waterfall and Sri Venkateshwara Zoological Park are also major Tirupati tourist attractions.
Top 5 Tourist Attractions in Tirupati – Tirupati Darshan Cabs
Tirupati is located at the foothills of the Eastern Ghats and is regarded as an important place of pilgrimage of South India. Tirupati is well connected by road, rail, and air, and it draws millions of pilgrims from all over the world, the count getting heftier every year. There are many famous tourist attractions in Tirupati. Among the top 5 tourist attractions in Tirupati, to top the list is the Venkateshwara Swami temple. All famous personalities from politics, films, sports, the corporate sector, and academics have made it to the temple at least once in their lifetime.
Tirupati is clad with lots of attractions for tourists of all age groups. Among the top 5 tourist attractions in Tirupati are:
Kapila Theertham: 
 a sacred Tank located at a distance of a mile and a half from Tirupati, Lord Shiva has blessed Sage Kapila with a vision of himself and his concert. It makes for a sacred destination and an excellent place for a day to spend.
Sarvadarshanam : 7:00 AM to 4:00 PM 5:30 PM to 8:00 PM
Sahasranama Archana : 4:30 AM to 5:00 PM
Lalitha Sahasranama Archana : 5:00 AM to 5:30 PM
Ekantha Seva : 8:00 AM to 8:15 PM
2. Govindarajan Sway Temple : 
is dedicated to Govindarajan Perumal. There is also a tower called Galigopuram, which is very famous. There are shrines of Sri Andal, Sri Parthasarathy, and Sri Venkateshwara in the temple, and it is much acclaimed among locals and tourists visiting Tirupati.
Govindarajan Sway Temple Timing's
5:00 am – 5:30 am Suprabhatha Seva
5:30 am – 6:30 am Viswaroopa Darshanam
6:30 am – 7:30 am Thomala Seva
7:30 am – 8:00 am Sahasra Nama Archana
8:00 am – 8:45 am Archanantara Darshan
8:45 am – 9:30 am Naivedyam Break
9:45 am – 12:30 pm Sarva Darshan
12:30 pm – 1:15 pm Naivedyam Break
1:30 pm – 4:45 pm Sarva Darshan
5:00 pm – 6:00 pm Naivedyam Break
6:00 pm – 8:30 pm Sarva Darshan
9:00 pm – 9:30 pm Ekantha Seva
3. Sri Kondandarama Swamy Temple :
dedicated to Sri Rama. This temple is situated at a distance of about a kilometer from Tirupati railway station. This temple was built to commemorate Sri Rama, Laksmana, and Sita to Tirupati while returning from Lanka.
5:00 AM – 12:00 PM
4:00 PM – 9:00 PM
4. Regional Science : 
Center has been established by the Central Government. The Science Center regularly conducts different programs for Teachers and Students to improve the quality of Science Education and even conducts science Exhibitions at least once a quarter. It is a must-visit place for science and technology freaks.
Regional Science Centre Tirupati Contact Number: +91-8772286202
Regional Science Centre Tirupati Timing: 10:00 am – 06:00 pm
Best time to visit Regional Science Centre Tirupati(preferred time): 11:00 am – 02:00 pm
Time required to visit Regional Science Centre Tirupati: 03:00 Hrs
5. S.V.Zoological Park : 
is a unique attraction for children. This famous park is visited daily by about fifty thousand people from all corners of the Country and several Academic and Professional Educational Institutions. Ideally suited to achieve ideal Zoological Park objectives, the Sri Venkateshwara Zoological Park extends over an area of 5532 acres.
Summer: 8:30 AM – 5:30 PM
Winter: 9:00 AM – 5:00 PM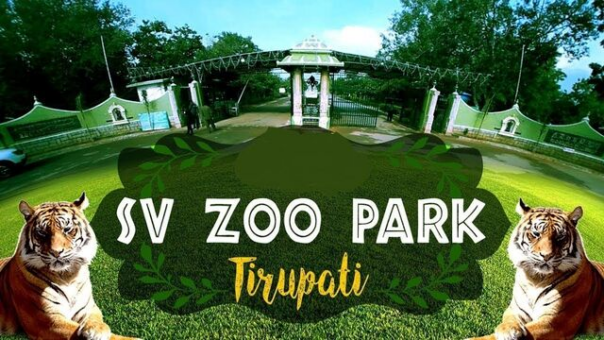 Top 5 Tourist Attractions in Tirumala -Tirupati Darshan Cabs
Sri Venkateshwara Swamy Vaari Temple : 
Venkateshwara Temple is a Hindu temple situated in the hill town of Tirumala at Tirupati in Chittoor district of Andhra Pradesh, India. The temple is dedicated to Venkateshwara, a form of Vishnu, who is believed to have appeared here to save mankind from trials and troubles of Kali Yuga. Hence the place has also got the name Kaliyuga Vaikuntam and the Lord here is referred to as Kaliyuga Prathyaksha Daivam. The temple is also known by other names including Tirumala Temple,
| Day | Morning | Evening |
| --- | --- | --- |
| Monday – Sunday | 06:00 AM | 07:00 Pm |
Sri Venkateshwara Museum Tirumala:
At a distance of 1 Kms from Tirumala Bus Station & situated close to Tirumala Tirupati Balaji Temple, Sri Venkateshwara Museum is an excellent place to understand the history and architecture Tirumala temple. It is located near Vaikuntam Queue Complex 2 of Lord Venkateshwara Temple. It is one of the popular attractions in Tirumala.
They were established in 1980. The Museum wing houses numerous religious artefacts of pooja utensils, along with the time-honoured art and architecture. In addition, this place has meditation halls for the worshipers to do a peaceful meditation.
9:00 AM – 5:30 PM
Srivari Paadaalu :
Situated on top of Narayangiri Hill amidst beautiful scenery, Srivari Padalu is believed to be where Lord Narayan first set his foot on earth. Hence, it is an important pilgrimage, and visitors flock in large numbers to offer prayers to the footprints of Lord Narayan.
Timings: 6 AM to 6 PM
Shri Akash Ganga Devi Temple (Akash Ganga Theertham)
One of the most sacred waterfalls in the country, the waterfalls of Akasha Ganga, are visited by almost all the devotees who come to Tirumala in search of Lord Venkateshwara's blessings. This waterfall also has great religious significance since its holy water is used for the Lord's abhishekam. The main deity of Tirumala Temple, Lord Venkateswara, who is an incarnation of Sri Maha Vishnu, receives a sacred bath every day with water.
In the Vedas, which are some of the most sacred scriptures of the Hindu religion, Akasaganga Teertham was mentioned. According to legend, Akasha Ganga theertham originates from Lord Venkateswara's lotus feet. All rituals of the temple are performed with its waters, which indicates the great importance of this waterfall. The Tirumala Nambi family can immerse themselves in the sacred waters of Akasa Ganga.
9m -6pm
Tirupati Balaji Darshan – Tirupati Darshan Cabs
Owing to its great spiritual significance, Tirupati is one of the holiest destinations in India and the most visited pilgrimage centre indeed. Being adobe to the Lord Venkateshwara – and incretion of God Vishnu, it's considered the 'Vaikuntam on the Earth.' Every year millions of Hindus across the globe visit this place to have Lord's darshan. And this number of pilgrims who come here for Tirupati darshan is extending gradually; around 60,000 devotees visit the temple daily to pay homage to this supreme power – 'Lord Venkateshwara.'
During weekends, holidays, and unique festivals, Tirupati features a considerable crowd. Sometimes, devotees have to wait more than 48 hours to catch a glimpse of the Lord. However, Tirumala Tirupati Devasthanam (TTD) makes various arrangements, including food, accommodations, bathrooms, and other required facilities, to put them at ease. Apart from that, numerous facilities are provided to make the Tirupati tour easy and comfy. Some of them are detailed below:
E-Seva:
It's, in fact, a booking for Tirupati darshan. People planning for the Tirupati tour can book for any of the darshans 90 days ahead. But, first, they need to visit the website of TTD and reserve the darshan tickets as per their requirements. Complete detail on darshans is available over the website, through both Debit and Credit Cards.
Tickets by Post:
This facility enables the pilgrims to avail darshan tickets by post. It requires writing a letter to the temple authority requesting darshan tickets on your preferred date. It's recommended to post the letter at least 90 days before the date you opt for darshan. Ensure you mention the type of darshan and send the latter along with a demand draft favouring TTD holding the number of darshan tickets. If tickets are available, If not, the authority will return your demand draft.
E-darshan:
 This online reservation service makes it possible to make all Tirupati bookings online and get all required information from your home. Today, 43 online centres are offering this service in various cities of India. You can reserve special darshan, Archana Anthara darshan, and other required services at Tirumala through this system. To secure the tickets, all members in your groups will have to approach the counter as photographs and fingerprints of everyone are required while issuing the tickets.
Sarva Darshan:
This is a free darshan that everyone can have. Free tokens are available at TTD specified places. After getting the token, you will have to wait for your turn. Time taken for Tirupati darshan depends upon the crowd.
There are several arrangements made by Tirumala Tirupati Devasthanam (TTD) to help devotees plan their Tirupati tour properly. However, some reputable travel companies offer customized Tirupati package that includes all sightseeing, accommodation and other required facilities for Tirupati tour. System of Tirupati online booking is available at the web address of these companies. Considering your needs and budget, you can easily reserve a suitable Tirupati package.
Tirupati Darshan Under Tirupati Online Booking
India is a large and diverse country encompassing a number of beautiful spiritual towns. If you are looking for a serene spiritual holiday, you are advised to go for a Tirupati darshan. Tirupati is a small town situated in South India's Andhra Pradesh. It is a sedate and beautiful place packed with a number of temples. With the availability of Tirupati online booking, now it has become extremely easy to book hotels and lodges. That is why there has been a surge in the number of tourists visiting this soulful place.
During your Tirupati trip, you will experience spiritualism like never before. The sight of thousands of devotees congregating outside temples will have a calming effect on your city-wearied soul. From the fragrance of sandalwood to the sweet smell of garlands, everything about Tirupati is blissful and charming. Tirupati darshan, or the sighting of Lord Venkateshwara (the chief deity of Tirupati), is a coveted affair. Pilgrims are coming from every part of the country line up in serpentine queues to pay their homage to the deities! You will also spot sages and 'sadhus' in the crowd. The sight itself can be extremely soul-stirring and peace-evoking.
Tirupati boasts of hundreds of temples of all sizes and shapes. Most of them belong to the medieval age and have been crafted using the Dravidian style of architecture, but you will spot some modern ones. Some of the must-visit temples are Sri Venkateshwara Temple, Sri Kodandaramaswami Temple, Sri Veda Narayanaswami Temple, and Sri Annapurna Sameta Kasi Visweswaraswami Temple. In addition, it would be best to make it a point to pay a visit to the tranquil Swami Pushkarini Lake.
Despite being a small town, Tirupati boasts of some great hotels, guest houses, and lodges. You can easily find a hotel of your choice and on a reasonable budget. Alternatively, you can book a hotel in advance under the Tirupati online booking system. Tirupati is a round-the-year destination though some say that the best time to do a Tirupati darshan is during the Brahmotsavam festival in September.
The Lowest Fares for Outstation Car Rental – Tirupati Darshan Cabs
Hatchback Rs. 2800/- Per day Rental
Sedan Rs, 3050/- Per day Rental
Innova Rs. 4050/- Per day Rental
Innova Crysta Rs. 4300/- Per day Rental
Tavera Rs. 4300/- Rental per day
Tempo Traveller Rs. 5200/- Rental per day
Tempo Traveller AC Rs, 5800/- Per rental day
Minibus Rs. 7700/- Per rental day
Mini AC bus Rs. 8600/- Per rental day
| | | | | |
| --- | --- | --- | --- | --- |
| Vehicle Type | Seating Capacity | Price/KM |  KM Per Day | Day Driver Bata |
| Hatchback AC | 4 +1 Seater | 10/- | 250 | 300/- |
| Sedan | 4 +1 Seater | 11/- | 250 | 300/- |
| Prime Sedan | 4 +1 Seater | 12/- | 300 | 300/- |
| SUV | 6 / 7  Seater | 15/- | 250 | 300/- |
| Innova Crysta/Tavera | 6 / 7 Seater | 16.00/- | 250 | 300/- |