Mysore City darshan Cab  – Mysore Tourism
Mysore City darshan Cab : Famously known as The City of Palaces, it wouldn't be wrong to say that Mysore, currently Mysuru, is one of the most important places in the country regarding ancient reigns. It is replete with the history of its dazzling royal heritage, intricate architecture, its famed silk sarees, yoga, and sandalwood, to name just a few. Located in the foothills of the Chamundi Hills, Mysore is the third most populated city in Karnataka, and its rich heritage draws millions of tourists all year round. The highlight is the majestic Mysore Palace, a UNESCO World Heritage Site, which is a must-visit.
Mysore City darshan Cab was one of the three largest Princely States in the erstwhile British Empire of India. To this day, the Mysore Palace stands tall as one of the most spectacular palaces in India. A very famous tourist spot that sees thousands of visitors milling in and around it every day, the Mysore Palace is a mesmerizing example of Indo-Saracenic architecture,every inch of the palace drips with opulence and intricate details, and every room that you visit stands out in terms of its elaborate architecture, beautiful paintings, rich colours, and stained-glass windows. On every Sunday, and during the Dussehra celebrations, the palace is spectacularly lit up once dusk falls.
Another popular element in Mysore is the Ashtanga School of Yoga. This draws visitors and practitioners from around the world to participate in this style of yoga that originated in Mysore.
Mysore City darshan sightseeing Cabs lowest Fares from Bangalore
| | | | |
| --- | --- | --- | --- |
| Vehicle Type | Model | Capacity | Per Km Rate |
| Hatchback | Indica or similar | 4 seater | Rs. 9 |
| Sedan | Dzire, Etios or similar | 4 seater | Rs. 10 |
| SUV | Innova, ,Xylo, Ertiga or similar | 6 seater | Rs. 13 |
| Assured Innova |  Innova Crysta. Tavera | 6 seater | Rs. 15 |
Mysore City darshan  sightseeing Cabs from Bangalore – Tempo Traveller ,Mini Bus lowest Fares
| | | | |
| --- | --- | --- | --- |
| Vehicle Type | Model | Capacity | Per Km Rate |
| Tempo Traveller NON AC | Force Tempo Traveller | 12+1 Seater | Rs. 15 |
| Tempo Traveller AC | Force Tempo Traveller | 12+1 Seater | Rs. 17 |
| Mini Bus NON AC | Mini Bus | 21+1 Seater | Rs. 24 |
| Mini Bus AC | Mini Bus | 21+1 Seater | Rs. 27 |
Mysore City darshan Cab –  Mysore Palace
An incredibly breath-taking example of Indo – Saracenic style of architecture, the Mysore Palace is a magnificent edifice located Mysore in the state of Karnataka. Also known as the Amba Vilas Palace, it is the former palace of the royal family of Mysore and is still their official residence. Mysore Palace was built in the year 1912 for the 24th Ruler of the Wodeyar Dynasty and is counted amongst one of the biggest palaces in the country.
The construction of the Mysore Palace was orchestrated by the Maharaja Krishnaraja Wadiyar IV referred to as "Rajarishi" (saintly king) by Mahatma Gandhi. It was then further expanded by his son and the last Maharaja of Mysore, Maharaja Jayachamaraja Wadiyar. The facade of the palace is a harmonious blend of Hindu, Muslim, Rajput, and Gothic styles which imparts it a regal quality. With the Chamundi Hills towards its eastern side,
the spectacle of the Mysore Palace is an enchanting sight to behold. Needless to say, it is the second most visited historical monument visited by both local and foreign tourists after the Taj Mahal. Presently located inside the Old Fort, Mysore Palace is renowned for its light & sound show and vibrant Dussehra celebrations.
Timings : 10:00 AM – 5:30 PM
Time Required: 2-3 hours
Entry Fee : Adults: ( Indian & Foreigners)INR 70
Children (between 10 and 18 years): INR 30
Students (Study Tour): INR 10
Parking: INR 40 (Car) %INR 20 (Two-wheeler)
Mysore City darshan Cab – Brindavan Gardens
The Brindavan Gardens, spread over 60 acres, is located at a distance of 21 km away from Mysore. Built across the notable river of India, Cauvery, it took around five years to complete the project. The well-synchronized fountain show with music, boating, and well-manicured grass with flowerbeds are some of the top experiences of Brindavan Garden.
Constructed in 1932 by the Diwan of Mysore, Sir Mirza Ismail, Brindavan Garden is visited by millions of tourists every year. Divided into two parts, north, and south, the boating facility offered by the Karnataka State Tourism Development Corporation connects the two parts along with a walkway bridge.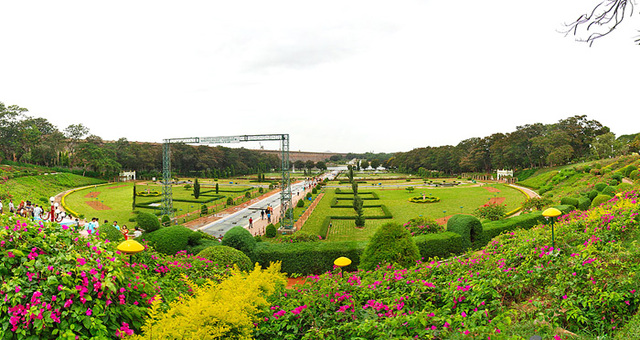 Timings: Garden timings: 7:00 AM – 8:00 PM (Weekdays)
7:00 AM – 9:00 PM (Weekends)
Musical Fountain Show: 6:30 PM – 8:00 PM (Weekdays)
6:30 PM – 9:00 PM (Weekends)
Time Required : 3-4 hours
Entry Fee : Adult: INR 50, Child: INR 10
DSLR: INR 100
Boating: Round Trip (From North Garden to South Part of Garden): INR 30 (Before 6 PM), INR 60 (After 6 PM)
One side after 6 PM: INR 30
Parking: INR 100 (Inclusive of Toll)
Mysore City darshan Cab – Mysore Zoo
Sri Chamarajendra Zoological Gardens, also known as the Mysore Zoo is one of the best zoological gardens in India. Maharaja Chamaraja Wodeyar established this Zoo in the year 1892 for the Royals. Furthermore, after the attainment of freedom, it was handed over to the Department of Parks and Gardens of the State Govt. The Zoo's meticulous planning is responsible for making it a special zoological garden. It tends to create a natural habitat for the animals in it. From Big to small cats, Aquatic to terrestrial birds, and Primates to reptiles, one Hundred and Sixty-Eight species find their place in this zoo. The world's first caesarian section delivery performed on an elephant in Mysore zoo gave it global fame and recognition.
Located near the palace in Mysore, The Zoological Garden covers an area of 157 acres. It is one of the oldest and most famous zoos in India. It plays the role of an orphanage to the abandoned animals. Various exhibitions are regularly held here with an insect exhibition stealing the show. Following this, the Zoo carries forward certain Education Programmes such as Youth Club activities, Literary Competitions, and Summer Camp activities. The Karanji Lake was put under Zoo jurisdiction in 1976 and since has been a calm and serene place for boating.
Timings: 8:30 AM – 5:30 PM, Closed on Tuesdays.
Time Required : 3 hours
Entry Fee : Adult: INR 50 (Weekdays), INR 60 (Weekend), Child (5-12 yr): INR 20 (Weekdays), INR 30 (Weekend)
Mysore City darshan Cab – Chamundeshwari Temple
The Chamundeshwari Temple is a traditional Hindu temple located on the eastern edge of Mysore at the height of 1000ft on the Chamundi hills. Dedicated to and named after goddess Durga, the temple also has statues of Nandi and Mahishasura, the demon. Being one of the oldest temples in the palace city of Mysore, the temple is a must-visit attraction for the travellers. The Chamundeshwari Temple is considered a Shakti Peetha and is one among the 18 Maha Shakti Peethas.
There are two options for the visitors to reach the Chamundeshwari temple, either by steps or by driving through the interwoven valley road. The temple showcases the fierce form of Shakti, a tutelary deity that was held in reverence for centuries by the Maharajas of Mysore; hence deriving its name from goddess Durga. The idol of goddess Durga here is adorned every day and worshipped by a number of priests. The deity is offered a variety of fruits, coconuts, and flowers to show respect and reverence.
Mysore City darshan Cab – Hassle Free Booking
Located atop the Chamundi hills, the temple is usually not too crowded. The Chamundeshwari temple also has statues of the demon Mahishasura; you can even see the enormous statues from the way driving up to the temple. The temple also has a Nandi statue, which is that of a cow and holds great importance in the Hindu mythology. The view from the temple is stunning, as you can see many significant structures of the city including the Lalitha Mahal Palace. The temple has also been declared as the No Plastic Zone, thus making a huge contribution to the conservation of our environment by curbing the use of plastics and dumping hazardous materials.
Timings : 7:30 AM – 2:00 PM, 3:30 PM – 6:00 PM, 7:30 PM – 9:00 PM
Dress Code: No dress code but modest attire is strictly required.
Mysore City darshan Cab – Karanji Lake
Karanji Lake, also known as the fountain lake, is a popular picnic spot. Visitors are allowed to bring packed food, and there is a coffee shop as well. It is a beautiful place to explore the different species of birds as the lake exhibits as many as 147 species including herons, Asian open bill storks, cormorant, grey pelican, etc.
The Karanji Lake is said to possess the largest aviary in the country. Its set up cost was nearly 3.8 million, and it measures 20m in length, 50m in breadth, and has a height of 60m. There is a waterfall too with two water bodies alongside. The lake also consists of a butterfly park which is home to more than 45 species of beautiful butterflies fluttering their wings and flying around in brilliant colours. Nectar, as well as host plants, have been planted in the park to help the butterflies sustain. The mesmerizing lake also consists of a Regional Museum of national history which is situated on the banks of the lake giving out information on the natural environment of South India and how to maintain it.
Mysore City darshan Cab  – Best Boating in Karanji Lake
The enthralling lake was formerly a part of the Mysore Zoo and is under the control of the Mysore Zoo Authority. The Karanji lake measures around 90 hectares (out of which 55 hectares is the water area, and 35 hectares was the foreshore area) and due to its popularity earns revenue of about INR 50,000 per day. It was initially constructed by the king of Mysore as a percolation tank and became a property of Mysore Zoo Authority in 1976. The area is adorned with lush greenery and an abundance of fauna, making it a top-rated tourist attraction.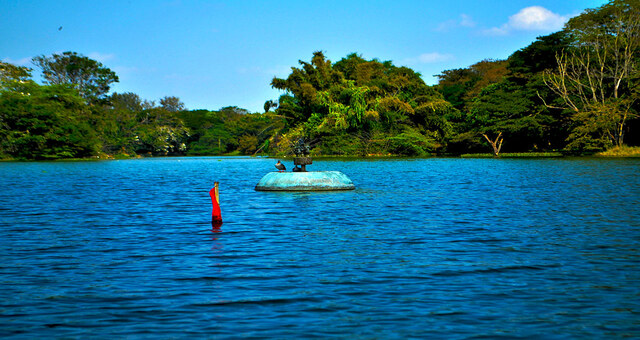 Timings: 8:30 AM – 5:30 PM (Closed on Tuesdays)
Time Required: 1-2 hrs
Entry Fee : Adults: INR 10,
Children (5-15 years): INR 5,
Senior Citizens: INR 5,
Video Camera: INR 25
Mysore City darshan Cab –  Mysore Sand Sculpture Museum
Created solely with sand and water and a small amount of glue, these sand sculptures captivate every visitor with their entrancing beauty. Although sand sculptures are usually created on beaches for a short period of time. At this museum, these sculptures are protected from sun and rain. Insecticides are also used to protect them from insects. These sand sculptures can last up to 1 year of time. It is estimated that more than 100 truckloads of sand have been used in the making of this museum.
This Sand sculpture Museum is the brainchild of MN Gowri, one of the leading sand sculptors of India. A bachelor in fine arts, Gowri, took four months of hard work and unwavering dedication to create this unique museum. This eco-friendly attraction in the Mysore city is established over a spread of lush green area. Her journey into the world of sand sculpting began at a festival that was organized at Suttur Mutt, Mysore by the Akhila Bharatha Veerashaiva Mahasabha. She had created a sand sculpture of Lord Shiva with Linga and snake for this festival.
 40 per person for Adults
 20 per person for Children
Day Timing
Monday to Sunday 8:30 am – 6:30 pm
Mysore City darshan Cab – Melody World Wax Museum
Melody Wax Museum is the result of the unwavering hard work of an IT professional named Shreeji Bhaskaran. Bangalore-based, Shreeji Bhaskaran conceptualized and developed this museum which was started in the month of October 2010. This museum is maintained and managed by sophisticated computer technology, which is applied by Shreeji Bhaskaran and his spouse Reena. This incredible work of wax was created in honour of musicians across the globe. Mysore wax museum is not the only work of Mr. Shreeji Bhaskaran. Wax World at Ooty and the wax museum in Goa are a few of his other creations.
Melody World Wax Museum Timings and Entry Fee
The timings of Melody World Wax museum Mysore are from 9.30 AM to 7 PM. It is open throughout the week. For entering this museum, a minimal entry charge is to be paid. The entry fee of Melody World Wax museum is only Rs.30 per person. The charge for carrying a still camera is Rs.10.
Mysore City darshan Cab – Mysuru Rail Museum
One of the major attractions of the museum is the Chamundi Gallery, which has an extensive range of pictures and paintings on the railways and its growth on display. Sri Ranga Pavilion is another prominent part of this museum. It has two royal coaches on display. These grand coaches that belonged to the Maharaja of Mysore present a real picture of the luxury and grandeur with which the royals used to travel. Maharani's saloon carriage is also quite interesting to explore. This coach that dates back to 1899 is equipped with a kitchen, dining car unit, and royal toilet as well.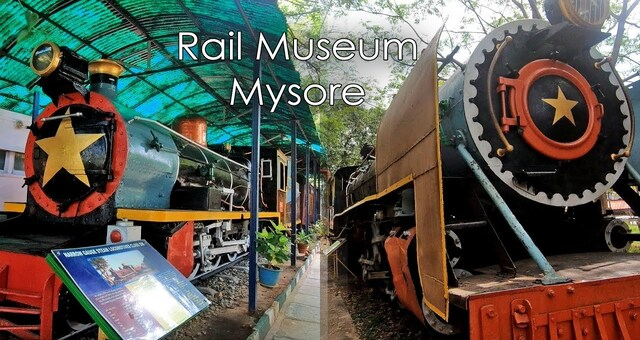 Some of the major attractions of the Mysore Railway Museum are
An ES 506 4-6-2 locomotive
An Austin Railway Car, built from 1925 Austin model
A YP #2511 made by Telco in 1963
Two royal coaches that belonged to the Maharajas of Mysore, the Wodeyar kings.
The Maharani's Saloon carriage with a dining car unit, a kitchen, and a royal toilet, dating back to 1899
A W.G. Bagnall # 1625 that was built in 1900
Built by North British Locomotive Co. in 1920, – Class E # 37244 4-4-4T from Surrey Iron Railway (SIR), one of the three superheated locomotives.
Built by W.G. Bagnall in 1932 – Class TS/1 #37338 2-6-2T from Southern Railway (SR) for Mysore State Railways
Mysore Railway Museum Timings
Mysore Railway museum timings are 10.00 AM to 5.30 PM. Visitors can visit this museum is open on all days of the week except on Monday.
Visitors are charged a minimal entry fee for exploring the marvellous collection at this railway museum. The entry fee for adults is said to be Rs.15 per person while for a child it is Rs.10 only.
Mysore City darshan Cab – GRS Fantasy Park
Located just 15 minutes from Mysore, GRS Fantasy Park is an amusement and water park that serves as a quick weekend outing for the people of Mysore and surrounding towns. Set amidst lush green landscapes on the Mysore-Bangalore highway, the park has served for over 13 years. It offers some fun rides and activities making it a perfect spot for friends and families to hang out.
GRS Fantasy Park offers numerous thrilling fun rides and a multipurpose play system for kids and adults. Water games and a kid's pool are the main attraction of the park. There are many inbuilt games at Amazonia which is an interactive river. The park has facilities such as lockers, changing rooms, restaurants, a gift shop, an amphitheater, and a gift shop.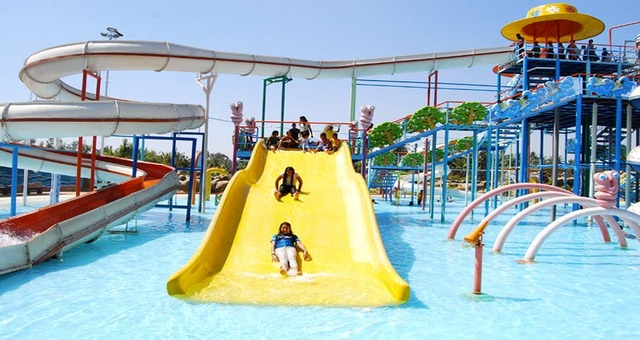 Timings : Sunday: 10:30 AM – 7:30 PM,
Monday – Saturday: 10:30 AM – 6:00 PM
Time Required : 3-5 hours
Ticket Prices: Entry fee before 3:30 PM:-
Adults (above 4'6″ in height): INR 699
Children (3′ to 4'6″ in height): INR 599
Infants (below 3′): Free
Senior Citizens (above 65 years): INR 449
Entry fee after 3:30 PM:-
Adults (above 4'6″ in height): INR 549
Children (3′ to 4'6″ in height): INR 449
Mysore City darshan Cab – Philomena's Church
Recognized as the second tallest church of Asia, St. Philomena's Church was constructed to pay tribute to the Catholic Saint and martyr of Roman Catholic Church, Saint Philomena. It is one of the most important historical sites in Mysore and is frequently visited by tourists from all over the country. Being one of the most distinctive landmarks of the city, it looks even more beautiful in the evening sky and is given religious importance having a Neo-Gothic style of architecture which makes it all the more famous amongst the masses.
The foundation for the church was laid in the year 1933 by the then king of Mysore, Sri Krishnarajendra Wodeyar Bahadur IV for the European residents in the city. After the construction went on for about eight years, the church started functioning in the year 1941. The remains of Saint Philomena have been preserved here and are present even today.
Mysore City darshan Cab – Hassle Free Booking
Saint Philomena was the daughter of the monarch of Greece and had always been a devotee of God and believed in him. She was taken to meet the Emperor when she was 13 years old, after which, the Emperor on seeing her beauty offered to marry her. However, she refused and the emperor ordered her to have her executed. The church stands as a symbol of the secular viewpoint and the religious accord of Mysore.
Timings : 5:00 AM – 6:00 PM, Everyday
Time Required: 1-2 hrs
Entry Fee: No Entry Fee
Mysore City darshan Cab – Shopping in Mysore
Mysore Pak
For the truest love of sweets, indulging yourself in Mysore Pak, the legendary sweet from Mysore should be on your to-shop list. The origin of the sweet goes back to almost 70 years back when the king of Mysuru requested a certain cook to produce a unique sweet that would bear the name of the city. The cooks were referred to as, 'Nalapaka' the person who prepares sugar syrup or 'paka'. He made a rich satisfying delicacy with the goodness of flour, sugar, and butter, naming it as Mysore Pak.
Where to shop: Guru Sweet Mart, Sayyaji Rao Road. Other stores that you can visit, are Indra Sweets, Annex Bombay Tiffanys, and Mahalaxmi Sweets which have concurred their own delicious variants of Mysore Pak.
Timings: 9:00 AM – 10:00 PM
Sandalwood Products
It feels heavenly when the aroma of sandalwood reaches your nostrils. Mysore offers a wide range of sandalwood products that would fill your heart and home with their musky smell. The connection between sandalwood products and the city can be traced to the golden era of the Wodeyar kingdom. The Government Sandalwood Oil Factory was set up in the year 1916 by the King of Mysore, Krishnaraja Wodeyar along with Diwan Sir M. Visvesvaraya. The aim of this establishment was to utilize resources and produce the purest form of Sandalwood oil. Located 2 kilometres away from the royal palace, the factory welcomes visitors for guided tours where they can see the different stages of the production of sandalwood oil. It is the best place that sells authentic sandalwood soaps, incense sticks, powder, and oil.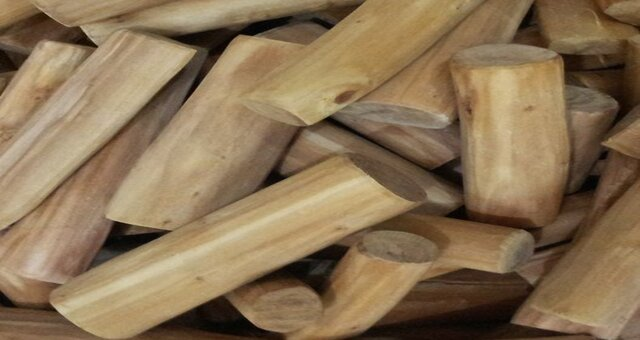 Where to shop: The Government Sandalwood Oil Factory, Kuvempu Nagar
Timings: 9:30 AM – 11:00 AM and 14:00 PM – 16:00 PM. Closed on Sundays
Wooden Toys (Channapatna Toys)
The craftsmen and artisans of Channapatna, a small town near Mysore, have mastered the art of producing unusually attractive wooden towns. During Tipu Sultan's rule, Persian artists imparted lessons on the art of crafting wooden toys. These colourful, affordable, and unique wooden pieces of art make up for magnificent souvenirs.
Where to shop: Mysore Handicrafts Shop, Sayyaji Road
Timings: 10:00 AM
Mysore Paintings
The city is influenced by different art and crafts which are showcased in the artifacts that one can get here. The traditional art of Mysore paintings dates back to the Ajanta era in the seventh century B.C. While you are on a shopping spree in Mysore, do not forget to pick some paintings depicting mythological characters and events with intense detailing.
Where to shop: Cauvery Arts and Crafts Emporium
Timings: 10:30 AM
Incense sticks
A paste composed of spices and gum is rolled around a thin bamboo stick, immersed in fragrant oils, when burnt releases a heart-warming aroma. Incense sticks in jasmine, rose, sandalwood, lily and much more are worth collecting from the city of Mysore.
Where to shop: KR Circle
Timings: 10:00 AM
Rosewood Souvenirs
Imagine stunning artifacts carved out of rosewood skillfully. Find it hard to believe? It is not. Talented artisans here carve figures out of rosewood with the use of different techniques. These are termite-resistant. These priceless decorative designs, patterns, and figurines are noteworthy souvenirs.
Where to shop: Cauvery Arts and Crafts Emporium
Timings: 10:30 AM
Silk Sarees
The booming silk industry in Mysore speaks volumes for the art of rearing silkworms and producing silk in the region. The golden Zari border beautifying the graceful silk sarees is a mandatory add-on to your wardrobe.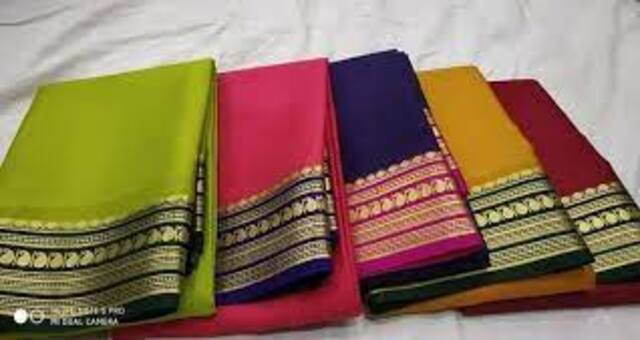 Where to shop: KSIC Mysore Silk Showroom
Timings: 10:30 AM
Stone Sculptures
Venkatappa was a gifted sculptor who started carving stunning figures out of soapstone. Sculpting into soapstone is a skill that requires an exemplary level of patience and time. The soapstone commonly known as Krishna Shila is available in multiple colours. Shopping for these rock sculptures is a must if you want to adorn your home with a piece of intricate art.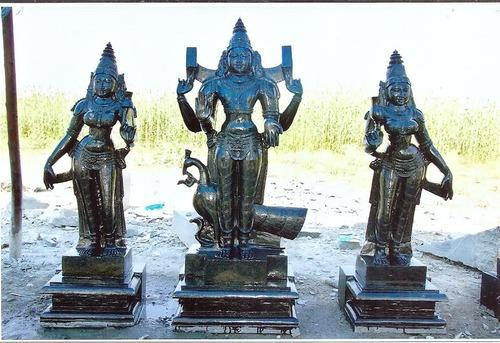 Where to shop: Mandi Mohalla, Ashoka Road
Timings: 11:00 AM
Mysore City darshan Cab – Shopping Malls in Mysore
While the city has abundant markets, small and big stores, one also has a choice of shopping malls to visit. Garuda Mall, Mall of Mysore, Forum Centre City Mall, and BM Habitat Mall are the best entertainment and shopping stations in the city. Be it silk sarees or Mysore Pak, these malls guarantee a luxurious shopping experience. The food courts at the malls cater to the taste buds of every cuisine, be it a Mysore Masala Dosa or a burger, you get it all here.
Markets in Mysore
Devaraja Market
Government Sandalwood Oil Factory
Government Silk Factory
Cauvery Arts & Crafts Emporium
Ashoka Road
Shopping in a city of cultural and artistic wealth is not only a lifetime experience but also enriching for the mind and soul. If you are planning for a weekend getaway to the historic city of Mysore, make sure to refer to this shopping guide to make your shopping adventure worth remembering.