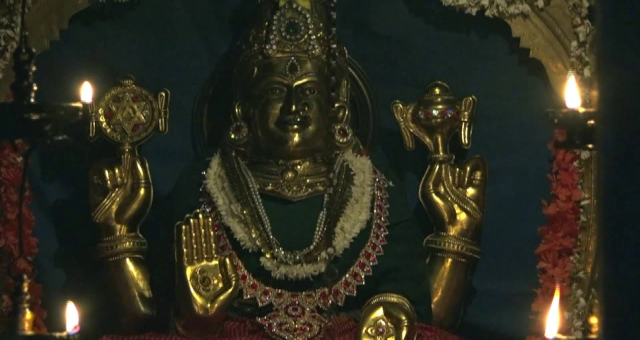 Kamalashile is just about 35 km from Kundapura in the Udupi district. It is surrounded by high mountains and luscious evergreen forests. The river kubja flowing along its sides completes the picturesque view. The most famous attraction of Kamalashile is the ancient Sri Brahmi Durgaparameshwari temple.
It is located right at the center of the village. Kamalashile is named after a stone Linga and has an interesting story associated with it. It is Goddess Sri Brahmi Durga Durgaparameshwari who is worshipped in the form of Linga. The Linga is also known to be a combination and convergence of two eternal powers of Goddesses Mahakali and Maha Lakshmi.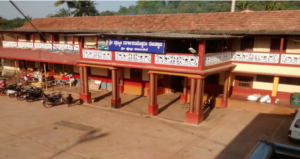 It is believed that a beautiful lady named Pingala who was known to be a dancer of the court performed her excellent dance in front of Lord Shiva and Goddess Parvathi up upon the Kailash Mountain. But one day when asked to dance again, she refused, this made Goddess Parvathi very angry and she cursed her that she would lose all her beauty and become an ugly woman; such as ugly as women in the Bhu-Loka.
She realized her mistake and pleaded to Goddess Parvathi to show some mercy. The Goddess told her that she was going to come down to the Bhu-Loka to end Khararatasura and all the evil deeds he had been doing. She mentioned that she will be showing up in the form of Linga in the Sahyadri forest. The Linga could easily be identified because it would be in the form of Kamalashile.
Goddess Parvathi suggested Kubja be near Suparshwa cave and chant mantras till she decides to forgive her and grant her moksha. She did as per Goddess order and later goddess was pleased. The Goddess is said to have appeared in front of her in the form of Kamalashile (linga). The spot chosen by the Goddess was at the place where the two rivers river Kubja and Naga Theertha met in front of the Raikwa Rushi ashram.
The Goddess also directed Kubja to go to Mathura; the holy land of Lord Krishna and get his golden touch after which she would be relieved from her curse and become beautiful again. The Goddess also told her to name the river of Sahya forest after herself; Kubja.
The river will follow the course of flowing towards the western coast and flood the land every year as a Book Bangalore to Kamalashile temple Cabs – Affordable Taxi Service …significance of cleaning the Linga.
Perfect destinations to reach Kamalashile Brahmi Durgaparameshwari Temple are mentioned below which defines the Nearest Airport and Nearest Railway Station.
Bangalore to kamalashile temple  – 400 Km
Nearest Airport: Mangalore – 125 km.
Nearest Railway Stations: Kundapura – 35 km.
Mangalore – 125 km.
Shimoga – 120 km.
Roads: Kamalashile is well connected with roads
This is temple is one of the best temples you should visit. Many special poojas are perform=med at the temple and it is said that by taking part in these poojas you can get Moksha. Every evening, devotees perform a special pooja known as the 'Salaam Pooja'. The pooja is mainly a tribute to the great ruler Hyder Ali and his son Tipu Sultan. The Mujarai Department of Government of Karnataka has the Sri Brahmi Durga Parameshwari Temple under its jurisdiction and is quite well managed with them.
Best Outstation Cabs Rental Service in Bangalore. Would you like to make your every outstation Cab ride pleasant? If yes, Cityline Cabs Cab is here to offer you the best with its most reliable Outstation Car rental Service in Bangalore. Planning for a weekend trip? If so, traveling by road to major tourist places from Bangalore is highly advisable as you can enjoy the serene beauty of the surroundings,
Our Outstation Cab service in Bangalore provides a wide range of affordable and reliable options according to your need and desire. There are plenty of options to reach major Outstations from Bangalore. You can travel by public transport or by your car. But, there is less chance to enjoy the scenic beauty of the surroundings if you drive a car by yourself or if you go by public transport to major outstations from Bangalore.
The best solution is to hire Outstation cabs from Bangalore. Cityline Cabs Cab is one of the leading Outstation Cab Service Providers in India. Booking a Car for Outstation is easy with us. We provide multiple cab booking options so you can book a cab easily from wherever you are.
Book Now. Cityline Cabs are ready to provide you a cab to travel wherever in India. You can choose a vehicle from Hatchbacks, Sedan, SUV, Tempo Traveler, and Minibus as per your convenience. Our cars are clean, well-maintained, and well-equipped with basic devices.
Our chauffeurs are knowledgeable of the tourist places so you can have a hassle-free ride. Car Booking for Outstation is easy with us. We provide multiple booking options for easy and convenient Outstation Cabs Booking. Book a car for Outstation through our website (www.citylinecabs.com) or give us a call on our customer support number (+917899219654 ).
Once you book an outstation cab with us, we will send you the booking details to your registered mobile number. Our prices for outstation cabs are competitive and we offer a very reliable Outstation Cabs Service in Bangalore. Enjoy your vacation with our Outstation Cabs Service in Bangalore. Hire a car for outstation from Cityline Cabs cab instead of driving a car on your own.
Booking outstation cabs with us offers you the convenience to sit back & relax, take fresh air, experience various local cultures during your trip. With so many Outstation Cab Services hitting the market, hiring the best car rental services in Bangalore is hard. Hence, before booking a car for outstation, compare the prices online, and choose the one that meets your needs.
Cityline Cabs is your one-stop destination for booking Outstation Cabs in Bangalore. Check our prices for Outstation cabs here and book your cab now for a happy ride.
Choose the best vehicle at affordable rates with us. We are the forerunner in the Car Rental services and booking outstation cabs in Bangalore for one way or two way is easy with us. Enter your trip details. Select a vehicle from Hatchbacks, Sedans, Innovas, SUVs, and Tempo Travelers. Pay before or after a trip using a card or cash.
Why Hire Outstation Cabs in Bangalore with Cityline Cabs. ?
We are the leading car rental service provider in Bangalore. Our cab prices are competitive and several reasons make us stand out in the crowd. Here is why to book outstation cabs with us for your outstation trip.
► Easy booking: You can easily book a cab with us through the web (www.citylinecabs.com) or telephone (+917899219654 ).
► Experienced drivers: Our drivers are professional and well-knowledgeable about the routes to major outstations.
 ► Any time help: Our customer support team will always help you all day and night to solve your queries.
 ► Online chat: We are also available 24/7 online chat.
 ► Luxury vehicles: Our vehicles are clean and well-maintained which ensures a safe and comfortable ride. So, you can experience comfort and convenience during your travel with our luxury vehicles.
►Affordable prices: We provide cars for outstation at the lowest prices when compared to other cab service providers. Hire a car for outstation with us to enjoy your vacation happily. Cityline Cabs Provide Reliable Outstation Cab Services in Bangalore.
Cityline Cabs is one of the leading Outstation Cabs providers in Bangalore. We not only provide cars for outstation but also other occasions. Our cars are more comfortable to ride and you can experience the best service than any other cab service.
Book Bangalore to Kamalashile temple tour Cabs – Affordable Taxi Service with Upto70%
► We provide cabs for outstation at affordable rates. Plan for a weekend trip and reach major outstations from Bangalore with our reliable Outstation Cabs.
Successfully booked the cab, your BookID is.