Chikmagalur City Darshan Cab: Situated in the southwestern part of Karnataka, Chikmagalur is a small picturesque town in the foothills of the Mullayanagiri range and is famous for its coffee cultivation. Chikmagalur literally means 'town of younger daughter'. It is believed that the town was presented as a dowry to the younger daughter of the chief of Sakrepatna, Rukmangada. In the other part of the town, Hiremaglur was given as dowry to the elder daughter of Rukmangada. Chikmagalur is also the first place in India where coffee was cultivated for the very first time.
Baba Budan, an Islamic Saint, is accredited with bringing the coffee seeds to Chikmagalur from Yemen. An entire range of mountains in the north of Chikmagalur town is named after him. With its numerous waterfalls, rivers, endless hillocks, green valleys, and varied wildlife, Chikamagalur attracts many tourists. The fact that Chikmagalur is also located close to Hassan, Belur, Halebidu, and many other tourist getaways, further increases its popularity.
Chikmagalur Local Sightseeing Cabs – Comfortable with affordable the lowest Fares
चिकमगलूर स्थानीय पर्यटन स्थलों का भ्रमण कैब्स – सबसे कम किराए के साथ आरामदायक
Chikmagalur City Darshan Cab: One of the prime attractions in Chikmagalur is the Mullain Giri which is the highest peak in Karnataka. Placed at an average height of about 6,300 ft. above sea level, the peak offers a gorgeous view of the Baba Budangiri Hills. A Shiva temple was built on top of the mountain and a Nandi sits beside it prettily in an open hut. Rivers like Tunga and Bhadra have their sources in the mountains which form an integral part of the Western Ghats. The unrivaled scenic beauty, thick green valleys, coffee plantations, silver Oakwood forests & magnificent mountain ranges present the traveler to enjoy the luxury of nature. Take a walk in the lush coffee plantation and enjoy the breathtaking scenery. Get to know about the different processes in coffee cultivation while you sip on a cup of freshly brewed coffee.
Hatchback Rs. 2800/- Per day Rental, Sedan Rs, 3050/- Per day Rental, Innova Rs. 4050/- Per day Rental, Innova Crysta Rs. 4300/- Per day Rental, Tavera Rs. 4300/- Rental per day, Tempo Traveller Rs. 5200/- Rental per day, Tempo Traveller AC Rs, 5800/- Per rental day, Minibus Rs. 7700/- Per rental day, Mini AC bus Rs. 8600/- Per rental day
| | | | | |
| --- | --- | --- | --- | --- |
| Vehicle Type | Seating Capacity | Price/KM | Min KM Per Day | Day Driver Bata |
| Hatchback AC | 4 +1 | 10/- | 250 | 300/- |
| Sedan | 4 +1 | 11/- | 250 | 300/- |
| Prime Sedan | 4 +1 | 12/- | 300 | 300/- |
| SUV | 6 / 7 | 15/- | 250 | 300/- |
| SUV | 6 / 7 | 16.00/- | 250 | 300/- |
| | | | | |
| --- | --- | --- | --- | --- |
| Vehicle Type | Seating Capacity | Price/KM | Min KM Per Day | Day Driver Bata |
| Tempo Traveller NON AC | 12 +1 | 16.00/- | 300 | 400/- |
| Tempo Traveller AC | 12 +1 | 18.00/- | 300 | 400/- |
| Mini Bus NON AC | 21+1 | 24.00/- | 300 | 500/- |
| Mini Bus AC | 21+1 | 27.00/- | 300 | 500/- |
| | | |
| --- | --- | --- |
| Destination | Distance from Bangalore | Time required to reach |
| Bangalore to Mysore | 143 km | 3 hrs 30 mins |
| Bangalore to Coorg | 237 km | 5 hrs 30 mins |
| Bangalore to Nandi Hills | 60 km | 1 hrs 15 mins |
| Bangalore to Ooty | 270 km | 6 hrs |
| Bangalore to Wayanad | 277 km | 6 hrs 30 mins |
| Bangalore to Tirupati | 250 km | 6 hrs |
| Bangalore to Chikmagalur | 242 km | 5 hrs 40 mins |
| Bangalore to Kodaikanal | 510 km | 8 hrs 30 mins |
| Bangalore to Goa | 650 km | 11 hrs 30 mins |
Chikmagalur City Darshan Cab  – Get Up to 70% discount Guaranteed
Chikmagalur also offers a lot of trekking opportunities that will completely satisfy an adventure seeker. One of the best trekking trails around Chikmagalur is the one to Kemmanagundi which is a beautiful hill station located amidst the lush forests of the Baba Budangiri hills. Enjoy the panoramic views full of cascading waterfalls and rivers that you will come across during your trek. Enjoy the view of Manikyadhara falls which is considered sacred by the locals. It is believed that a Saint and four of his disciples came to this place for water to quench their thirst. After a long wait, all of their prayers were answered when they were blessed with water from Manikyadhara Falls that originated from the mountains.
The hill station of Chikmagalur is a great choice if you want to get away from the crowds and enjoy the serenity of nature and its endowments. The place is not much frequented by tourists so you will be able to enjoy your holidays in peace and tranquillity.
Chikmagalur City Darshan Cab – Kudremukh National Park
चिकमगलूर सिटी दर्शन कैब – कुद्रेमुख राष्ट्रीय उद्यान
Kudremukh National Park, situated in Karnataka's southwestern corner is the smallest national park in India. Kudremukh is a tribal word meaning horse face and the range resembles a horse's head. It is forested with valuable sal trees and home to wildlife including rare species of elephant and tiger.
Kudremukh National park is a 2,000Year Old range of mountains, flanked by rich evergreen forests. Home for over fifty species of mammals and 329 species of birds, the park harbors valuable habitat for Tiger, Leopard, Elephant, and Gaur. The true jewel of the Kudremukh National Park is its wealth of flora and fauna; it is home to as many as 40% of the plant species found in Karnataka.
The Kudremukh National Park is a National Park in the Western Ghats of Karnataka. The park is located near the district headquarters of Chikmagalur and adjacent to Kerala. A network of forest roads connects the protected area to Madikeri to the north, Mangalore to the south, Mudigere to the east, and Sargur to the west.
Kudremukh National Park Timings & Entry Fees
The park stays open throughout the year, wherein the opening hours for visiting it or witnessing the natural wonders are 6:00 AM to 6:00 PM. For visiting the Kudremukh National Park, the entry fee for an Indian tourist is INR 200 and for a foreign tourist is INR 1,000
Chikmagalur City Darshan Cab – Mullayanagiri Peak
चिकमगलूर सिटी दर्शन कैब – मुल्लायनगिरी पीक
Adorned with dense green forests and picturesque valleys, the majestic Western Ghats host one of the most important temples of Karnataka – the world-renowned Baba Budan temple. The Mullayanagiri peak is one of the popular hiking destinations in India and lies at a distance of just 45 minutes from Chikmagalur. A carved stone casket containing 300 coffee seeds is believed to have been brought from Yemen by a local monk around 1670 AD. This made way for establishing the next institution, i.e., Coffee plantations in India.
Mullayanagiri peak is the second highest peak in Karnataka and is the third highest in peninsular India and lies in Baba Budangiri hills of Chikkamagalur district. The peak is a trekkers paradise and is surrounded by scenic valleys, lakes, and Western ghats forests.
At 2,670 meters (8,780 ft), the summit of Mullayanagiri is a great destination for beginners and experienced trekkers alike. Perhaps the easiest peak in the Baba Budan Giri Range, this peak is extremely popular with local tourists because of its close proximity to the city of Chikmagalur and relatively easy trek.
Mullayanagiri Chikmagalur Timings
Monday – Sunday 6:00 am – 6:00 pm
Chikmagalur City Darshan Cab – Bhadra Wildlife Sanctuary
चिकमगलूर सिटी दर्शन कैब – भद्रा वन्यजीव अभयारण्य
Bhadra Wildlife Sanctuary is only 38 km west of the Chikmanglur town in Karnataka. The Bhadra sanctuary covers an area of 955 sq km. It was established as a wildlife sanctuary on August 15, 1986, to protect one of the last remaining populations of the Bengal Tiger in Karnataka.
Bhadra Wildlife Sanctuary, located at a distance of 38 kilometers (24 mi) from Chikmagalur in Karnataka, is home to a variety of rare and elusive animals such as elephants, tigers, wild dogs, jungle cats, leopard cats, and bears.
The sanctuary is famous for its rich wildlife and Western Ghats' vegetation.  The Bhadra Reservoir formed in this forest area, abounds with a number of migratory and resident birds, making it one of the most diverse ornithological regions in Asia.
Bhadra Wildlife Sanctuary is an exotic destination where you can spend your weekend surrounded by the luxuries of nature. It is only 38 Km away from Chikmagalur town. Bhadra sanctuary houses many species of animals like tigers, bears, elephants, Hyena, and deer. It also has leopards and other small cats.
Bhadra Wildlife Sanctuary Chikmagalur Timings
Monday – Sunday
6:30 am – 8:30 am
4:00 pm – 6:00 pm
 400 per person for Adults (Jeep Safari)
 200 per person for Children below 10 years of age (Jeep Safari)
Chikmagalur City Darshan Cab – Baba Budangiri
चिकमगलूर सिटी दर्शन कैब – बाबा बुदनगिरी
To the north of the Chikkamagalur district of Karnataka, lies the Baba Budan Range of the Western Ghats of India. Baba Budangiri is a mountain in the Baba Budan Range and is renowned for its shrine to the Sufi Saint, Hazrat Dada Hayat Khalandar (also known as Baba Budan). This is a famous pilgrim site for both Hindus and Muslims and is often flocked by travelers. This famous mountain range is also known as Dattagiri Hill Range, as the shrine here is believed to be associated with Hindu God Guru Dattatreya. This mountain range proudly exhibits one of the highest mountain peaks, with altitude lying between that of the Himalayas and the Nilgiris. Legend has it that via the Chikamagalur district, coffee was first brought into India when the coffee crop was grown in Baba Budangiri Hills by Sufi Baba Budan during 1670 AD.
On a clear day, the Baba Budangiri hill is visible from many places in the north of the Chikkamagalur district of Karnataka. It has an elevation of 1057 meters (3506 ft). Its peak is a popular trekking destination in Chikkamagalur. On top of this hill lies a tomb, from which the mountain derives its name. The tomb belongs to Syed Muhammad Banda Nawaz Jilani, also known as Sayed Banda Nizam-ul-Mulk of Mir Muhammad Hamadani. He was a Sufi saint who died in India
Baba Budan or Baba Budangiri is a mountain range named after the saint and Sufi mystic, as his remains are buried here. The range stretches from north to south over a distance of 8 km, sloping from west to east. At its western end, it merges into the eastern portion of the Hemavati reserve forest.
Timings : 8:00 AM – 5:00 PM
Chikmagalur City Darshan Cab – Jhari Waterfalls ( Buttermilk  Water Falls)
चिकमगलूर सिटी दर्शन कैब – झरी जलप्रपात (बटरमिल्क वॉटर फॉल्स)
The Buttermilk falls is a very beautiful waterfall, situated in the Baba Budan hills. This water reservoir is situated in a small valley near Attigundi, at a distance of 12 km from Baba Budangiri. When water falls on rocks due to its gravitational pull, it produces a smooth and continuous white water flow.
It is a popular picnic spot. The natural evergreen forest, cascading waterfalls and beautiful rock formations make the Jhari Waterfalls one of the most scenic tourist attractions around Baba Budangiri Hills.
It is a sight for sore eyes, providing a relaxing place to spend the day with your family and friends. While visiting Jhari Waterfalls, tourists can spend the day at nearby attractions such as Brahma Jodi Dargah, Baba Budangiri, and Doodhiya Mutthi. Other than that, the cool breeze, fresh air, and mesmerizing view of water pouring from the heights are something to remember.
Timings : 8:00 AM – 5:00 PM
Note: The jeep ride will cost you 600 rupees per jeep with a capacity of 6 people
Chikmagalur City Darshan Cab – Kemmangundi
चिकमंगलूर सिटी दर्शन कैब – केम्मनगुंडी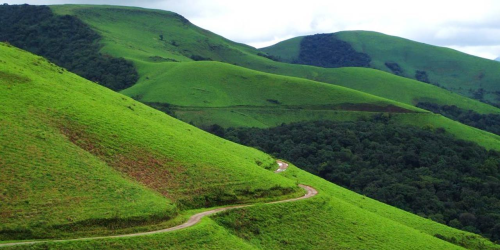 Kemmannugundi is a hill station in Tarikere taluk of Chikkamagaluru district in the state of Karnataka. It is at an altitude of 848m above sea level. Located amidst the Western Ghats, this place is also known as "Mini Kashmir". This place has got this name because of the beautiful lakes and lush green forests around this place.
Kemmannugundi is the place where you will get the fragrance of nature and feel refresh. Kemmanagundi is a hill station in Tarikere Taluk of Chikkamagaluru District in Tumakuru Division of Karnataka State in India. This unique place is surrounded by hills, valleys, and streams. Myths have it that Kemmannugundi was developed during the period of the Madhva saint Shri Sripadaraya, who is also known as Kanaka Guru or Bhadragiri Swamy.
Chikmagalur City Darshan Cab – Hebbe Falls Kemmangundi
चिकमगलूर सिटी दर्शन कैब – हेब्बे फॉल्स केम्मनगुंडी
The Hebbe Falls originated from the snowmelt from the west-facing slopes of the Western Ghats that surround Kemmannugundi. It is by far the largest fall in Kemmannugundi and is considered to be one of the most beautiful waterfalls in India. It is a single-drop waterfall, with a height of about 25 meters or 82 feet, spread across an area of about 15m x 20m (49 feet x 65 feet). The water gushes out into two streams.
Hebbe Falls is a unique landmark, carved out over time by a small stream that tumbles through the heart of Mundgod taluk in the district of Karnataka. Within walking distance from Hebbe village, this site is located 20 km from Kemmannugundi town.
Hebbe Falls Kemmannagundi is located in the rain-soaked cloud cover of Western Ghats. Known for its roaring cataracts and thunderous sound, it attracts adventure enthusiasts from across the globe. In fact, during monsoons, trampers can walk on water. A visit to Hebbe Falls Kemmannagundi now on board the book vehicles.
Monday – Sunday 
6:00 am – 6:00 pm
 400 per person to ride in the jeep
 3200 for 8 people to ride in the jeep
Note: The check post is the entry point for the falls where u need to take a jeep
Chikmagalur City Darshan Cab – Kalhatti Giri  Waterfall
चिकमगलूर सिटी दर्शन कैब – कलहट्टी गिरी  वॉटरफॉल
Kalhatti Giri Falls (Kalahasti Falls) is in the Chikmagalur district at Kallathipura in Karnataka.  The waterfall is in an elegant location and is a beautiful cascading waterfall amidst the luscious greenery. The waterfall from the Chandra Drona hills around 122 meters' height above.
The fall is in front of Veerabhadreshwara temple dedicated to Lord Shiva. The Kemmangundi hill station is around 10km from the waterfall. The waterfall is surrounded by captivating valleys and gardens, which is indeed a visual treat to visitors.
Kalhatti Falls is the perfect combination for anyone seeking spirituality and serenity in a single location. Also known as the Kalahasti Falls, the Kalhatti Falls are situated in Chikmagalur. They are at a distance of 10 kilometers from the Kemmangundi hill station. The location has the infamous Veerabradeshwara Temple which is dedicated to Lord Shiva. The entire area is covered with greenery. Being situated close to Chandra Drona hill, you can enjoy the view of the water pouring down from there too.
8:00 am – 6:00 pm
Chikmagalur City Darshan Cab – Kemmanagundi Z Point
चिकमंगलूर सिटी दर्शन कैब – केम्मनगुंडी जेड पॉइंट
Nestled in Kemmangundi and offering exquisite views of the Western Ghats, Z Point is a vantage point that can be reached after undertaking a thrilling trek, thereby making it a must-visit place for all the adventure lovers out there. On the trek which is quite challenging, one also comes to beautiful surroundings and lush green valleys. Comprising of some of the deepest ravines, the trek to reach the Z Point is likely to offer you some of the best views of Kemmangundi. Listed amongst the most picturesque places to visit in Chikmagalur, Z Point is a magnificent sunrise and sunset point.
The place leaves you mesmerized with a feeling that nature picked up a paintbrush and sent you an invitation. Situated at an elevation of 1500 meters above sea level, the serene ambiance of the place combined with the exciting trek and the wonderful views around makes it worth visiting. This trekking trail of 3 km begins from Kemmanagundi Raj Bhavan and into the thick forest from which you will come across Shanti Waterfalls. Till Shanti Hills, the trek is easy, but after that, it gets a little tough. In the later part of the trek, you are likely to be on a narrow path surrounded by deep valleys and steep hills. This route, though a little difficult, offers exhilarating views of the mountains of Kemmanagundi along with some extensive grasslands which give a distinct setting to the slopes.
Chikmagalur City Darshan Cab – Ayyanakere Lake
चिकमगलूर सिटी दर्शन कैब – अय्यानाकेरे झील
Ayyanakere Lake is located at a distance of 20 km from the town of Chikmagalur. Positioned in the Malnad region, the beautiful water body is frequented by nature lovers. One of the highlights of the lake is the view of a pyramid-shaped peak standing alongside the reservoir.
Tourists visit the lake for witnessing the beauty of nature on the Agumbe and Sringeri Hills during sunrise and sunset. The second biggest lake in Karnataka was developed in the 12th century with the objective to maintain and enhance the fertility of the land.
It is also a blessing to farmers, for irrigating 21,560 hectares of land in the region. Tourists can also engage in recreational activities at the lake such as fishing and camping at the lakeside. Along with visiting this 900-year-old water body, tourists can also visit the Shakhuni Ranganatha Temple that is located nearby.
Monday – Sunday
6:00 am – 6:00 pm
Shopping Delights
Chikmagalur City Darshan Cab

– sandalwood
The town is famous for its rich and fragrant sandalwood, so ensure that you pick up sandalwood idols and perfumes packed in attractive little wooden boxes. Nature Craft, located around 9 km from Chikmagalur sells artifacts fashioned from coffee wood.
Chikmagalur City Darshan Cab – coffee beans
Whether you're a coffee connoisseur or just like to start your day off right, you'll love our 100% arabica coffee beans. Roast them at home for the freshest flavor or choose from one of our single-serve packs that let you enjoy great-tasting coffee in the office while traveling, or wherever your busy schedule takes you.
Note: Famous coffee dealer in Chikmagalur
PANDURANGA COFFEE 1938 ,P.B, No.150, MG Rd, Chikmagalur, Karnataka 577101
Monday – Sunday
9:00 am – 9:00 pm
Famous Coffee Shops in Chikmagalur
Chikmagalur City Darshan Cab – Siri Coffee Bar
चिकमगलूर सिटी दर्शन कैब – सिरी कॉफी बार
When visiting Chikmagalur, you'll feel right at home at Siri Nature Roost as it offers quality accommodation and great service. From here, guests can make the most of all that the lively city has to offer. With its convenient location, the property offers easy access to the city's must-see destinations.
Siri Nature Roost offers many facilities to enrich your stay in Chikmagalur. Top Features of the property include daily housekeeping, family room, 24-hour check-in, free breakfast, breakfast buffet.
The ambiance of Siri Nature Roost is reflected in every guestroom. flat-screen television, clothes rack, mirror, private entrance, sofa are just some of the facilities that can be found throughout the property. Recreational facilities available at the property include a badminton court, dart board, outdoor pool, table tennis. Siri Nature Roost is a smart choice for travelers to Chikmagalur, offering a relaxed and hassle-free stay every time.
Monday – Sunday
9:00 am – 10:00 pm
Chikmagalur City Darshan Cab – Coffee Plantations, Chikmagalur
चिकमगलूर सिटी दर्शन कैब – कॉफी बागान, चिकमगलूर
Taking a tour of the resplendent coffee plantations is one of the most essential things to do in Chikmagalur. Aside from reveling in the fresh aromatic smell of coffee beans and relaxing amidst the verdant green plantations, the estate owners arrange frequent tours where you can learn about the history of coffee and other details.
Time Required: 1 – 2 hrs
Our Services
India's Cheapest Car Rental Service, The best car rental service with economical and Quick and Reliable Car Rental Services, Car rental in Bangalore, Cab service in Bangalore, Innova Crysta bookings in Bangalore, Tour package from Bangalore, Tempo Traveller for rent in Bangalore, Luxury car bookings in Bangalore, Online car rental booking in Bangalore, Minibus rental in Bangalore, Tour Packages, Innova Crysta for rent, Tourist Bus Rental, Tempo Traveller Rental, Car Rentals near me, By flash deals Call 7899219654  or Please more Information Visit Website: www.citylinecabs.com and www.cabsrental.in